Barbara Kobylinska is a sculptor who creates large colorful ceramic and mixed media birds, bugs, and flowers that mirror the natural world with an abstract, fanciful twist. She is based in Virginia Beach, Virginia.
Selected Works
Green Big Fish 76″H x 20″W x 28″D

Muted Cucumber 72″H x 17″W x 17″D

Blue Monkey 55″H x 20″W x 16″D

Platypus 50″H x 22″W x 18″D
Captivating Kangaroo 27″H x 11″W x 18″D

Cuddly Koala Bear 19″H x 9″W x 7″D

Watchful Weasel 22″H x 16″W x 10″D

Giant Giraffe 27″H x 11″W x 12″D
Red Bug 25″H x 18″W x 2″D

Key Bug 19″H x 15″W x 4″D

Yellow Fly 21″H x 15″W x 2″D
Birch Leaf 22″H x 9″W x 3″D

Inflorescent Incandescent 33″H x 11″W x 7″D

Inflorescent Incandescent 29″H x 8″W x 8″D

Poplar Leaf 14″H x 13″W x 3″D
To view a selection of works of subjects including large abstract ceramic works and fanciful creatures, follow the link below to visit the portfolio.
---
About The Artist
Having lived her early life in Warsaw, Poland, Barbara Kobylinska received a master's degree in graphic design and later a master's in costume and stage design at Warsaw's Academy of Fine Arts. Since then, she has been an art teacher; a children's book illustrator; a poster, puppet, and stage designer; and finally, a sculptor. For the last 25 years, she has worked in her Virginia Beach studio, creating large (4–6 ft.), colorful ceramic birds, bugs and flowers that mirror the natural world with an abstract, fanciful twist.
"Barbara Kobylinska approaches her art with both a studied sense of design and an unapologetic trust of intuition. Her artistic training and experience, has afforded her a solid understanding of structural form and language of shape, mass and proportion. Barbara Kobylinska is adventurous and inventive. With humor and a sophisticated, playful intelligence, she invites us to share her delight in the unexpected."

Bob Donovan
Curator
Century Center Artspace
Arlington, VA
Follow the link below to learn about Barbara's work, past shows, and what others say.
Contact
If you have questions about purchases, available pieces, shows, galleries, or anything else, please use the form here to contact me directly. If you are in Virginia Beach, VA and would like to visit my studio, please contact me to make an appointment.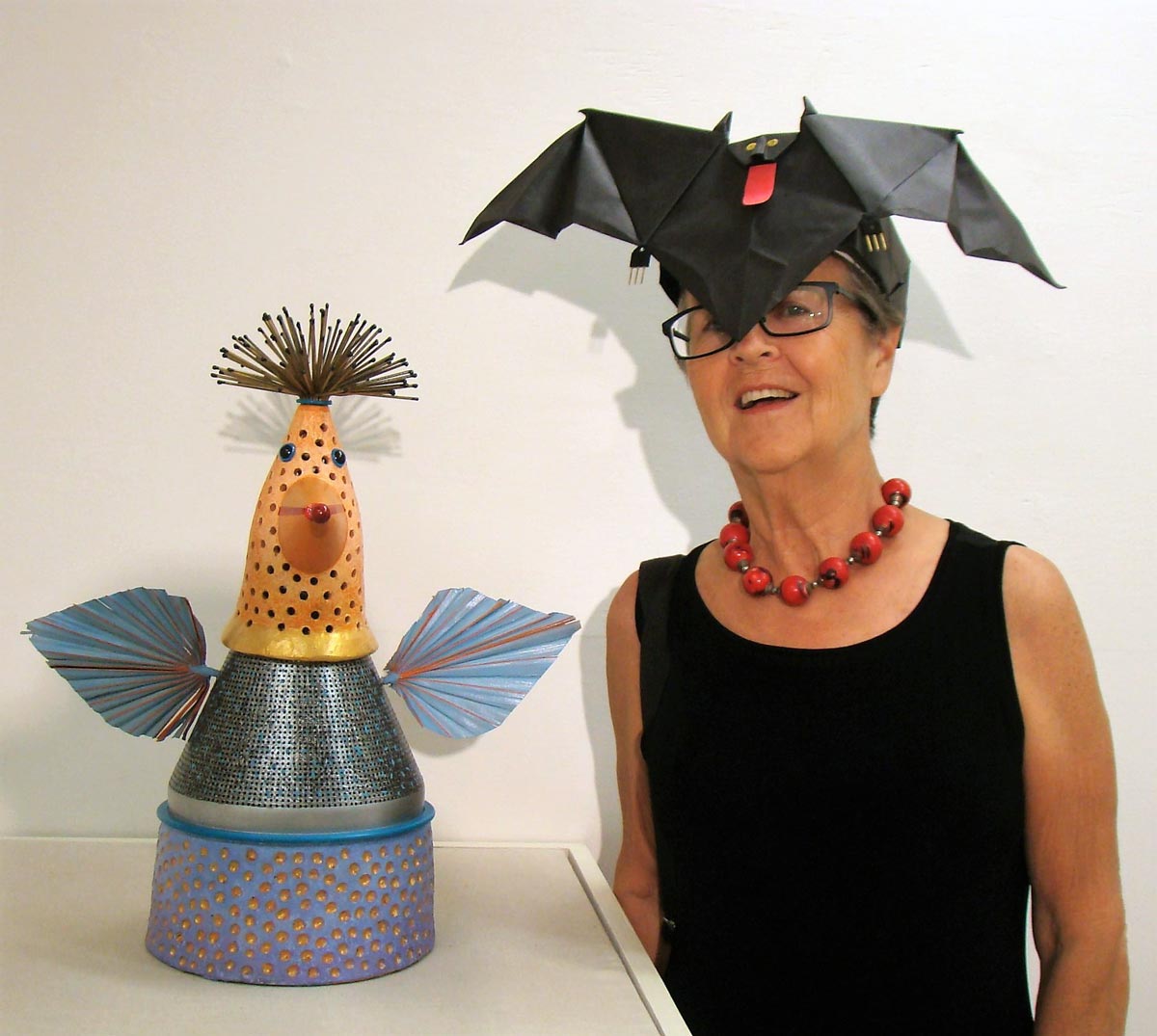 Galleries
Objects, Art and More Gallery
4462 Irvington Road, Irvington, VA 22480
(804) 438-8024
[email protected]
Virginia Beach Art Center
532 Virginia Beach Blvd., Virginia Beach, VA 23451
[email protected]
Lemon Tree Gallery and Studio
301 Mason Ave., Cape Charles, VA 23310
Zenith Gallery Inc. 1429 Iris Street, NW, Washington, DC  20012 www.zenithgallery.com
Send A Message